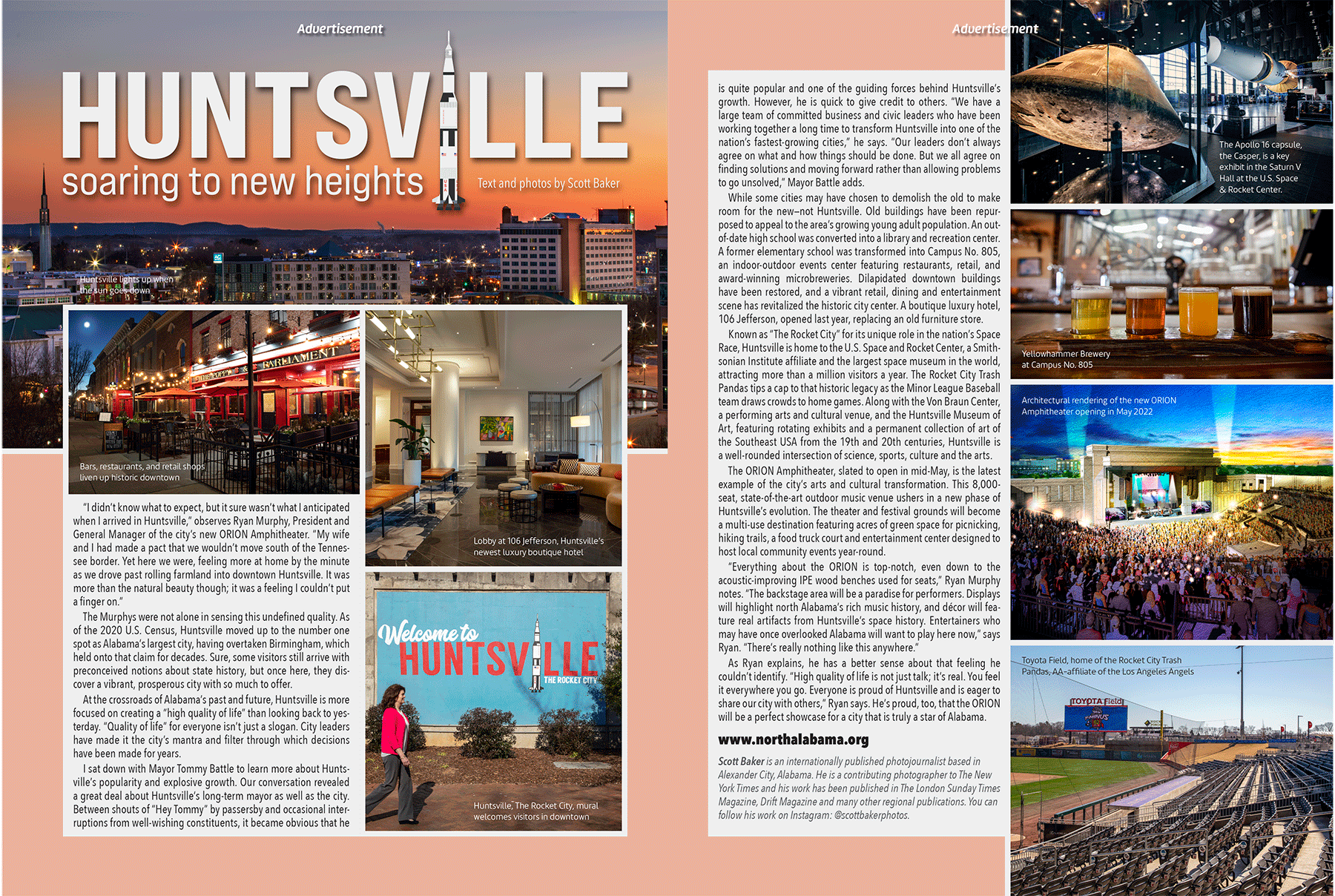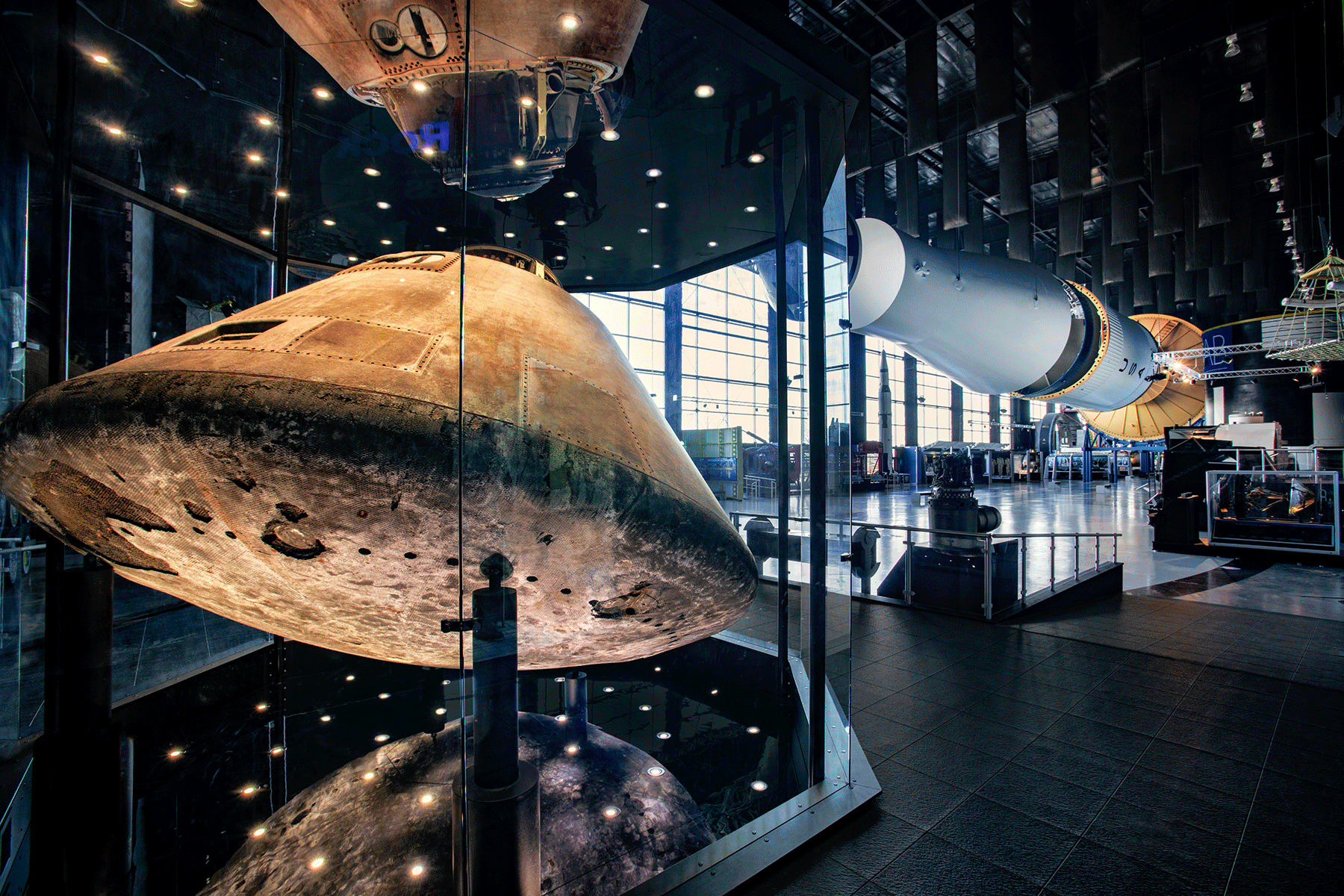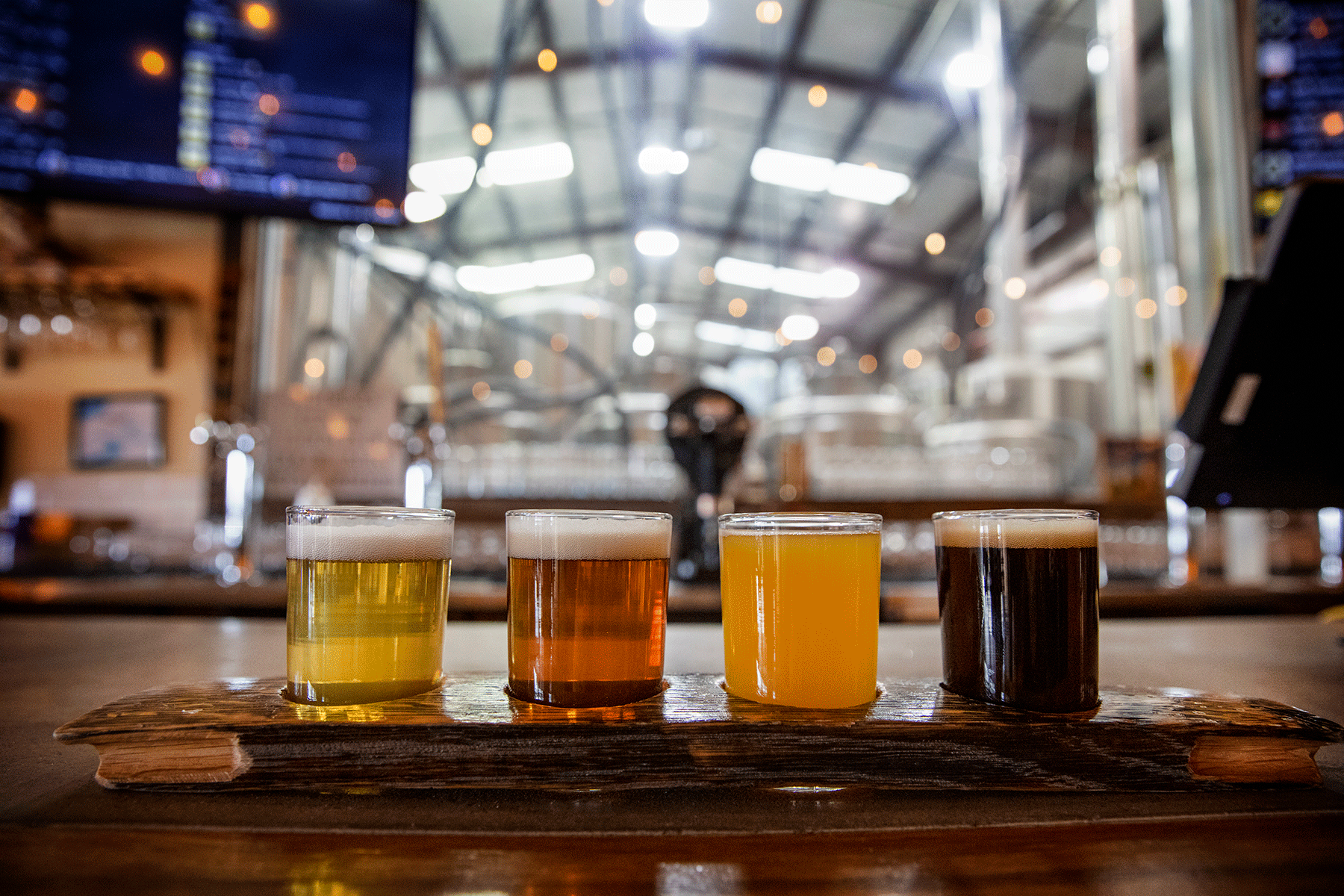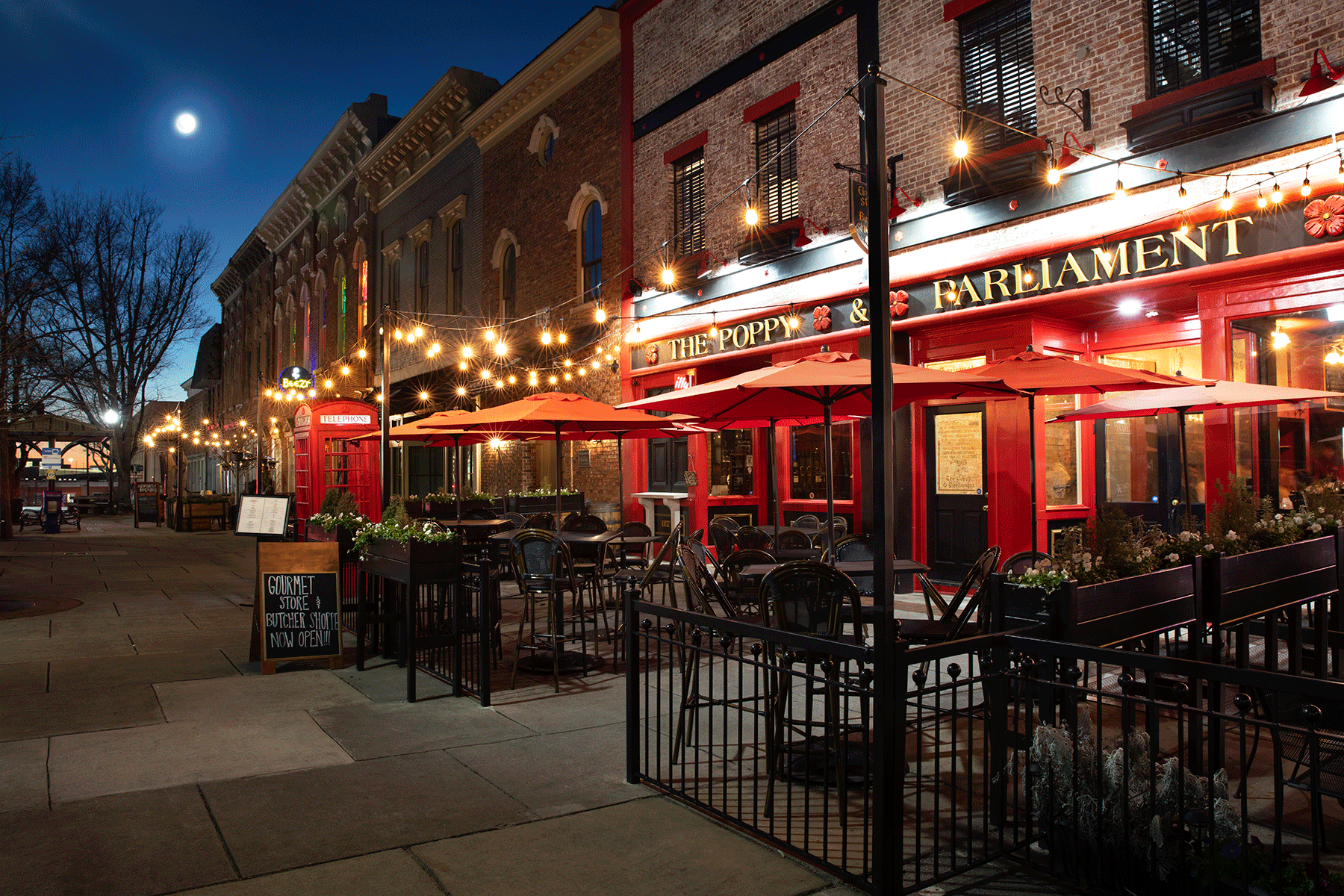 Published in Alabama Living Magazine – April 2022
"I didn't know what to expect, but it sure wasn't what I anticipated when I arrived in Huntsville," observed Ryan Murphy, President and General Manager of the city's new ORION Amphitheater. "My wife and I had made a pact that we wouldn't move south of the Tennessee border. Yet here we were, feeling more at home by the minute as we drove past rolling farmland into downtown Huntsville. It was more than the natural beauty though; it was a feeling I couldn't put a finger on."
The Murphys were not alone in sensing this undefined quality. As of the 2020 U.S. Census, Huntsville moved up to the number one spot as Alabama's largest city, having overtaken Birmingham, which held onto that claim for decades. Sure, some visitors still arrive with preconceived notions about state history, but once here, they discover a vibrant, prosperous city with so much to offer.
At the crossroads of Alabama's past and future, Huntsville is more focused on creating a "high quality of life" than looking back to yesterday. "Quality of life" for everyone isn't just a slogan. City leaders have made it the city's mantra and filter through which decisions have been made for years. 
I sat down with Mayor Tommy Battle to learn more about Huntsville's popularity and explosive growth. Our conversation revealed a great deal about Huntsville's long-term mayor as well as the city. Between shouts of "Hey Tommy" by passersby and occasional interruptions from well-wishing constituents, it became obvious that he is quite popular and one of the guiding forces behind Huntsville's growth. However, he is quick to give credit to others. "We have a large team of committed business and civic leaders who have been working together a long time to transform Huntsville into one of the nation's fastest-growing cities," he said. "Our leaders don't always agree on what and how things should be done. But we all agree on finding solutions and moving forward rather than allowing problems to go unsolved," Mayor Battle added.
While some cities may have chosen to demolish the old to make room for the new—not Huntsville. Old buildings have been repurposed to appeal to the area's growing young adult population. An out-of-date high school was converted into a library and recreation center. A former elementary school was transformed into Campus No. 805, an indoor-outdoor events center featuring restaurants, retail, and award-winning microbreweries. Dilapidated downtown buildings have been restored, and a vibrant retail, dining and entertainment scene has revitalized the historic city center. A boutique luxury hotel, 106 Jefferson, opened last year replacing an old furniture store.
Known as "The Rocket City" for its unique role in the nation's Space Race, Huntsville is home to the U.S. Space and Rocket Center, a Smithsonian Institute affiliate and the largest space museum in the world, attracting more than a million visitors a year. The Rocket City Trash Pandas tips a cap to that historic legacy asthe Minor League Baseball team draws crowds to home games. Along with the Von Braun Center, a performing arts and cultural venue, and the Huntsville Museum of Art, featuring rotating exhibits and a permanent collection of art of the Southeast USA from the 19th and 20th centuries, Huntsville is a well-rounded intersection of science, sports, culture, and the arts.
The ORION Amphitheater, slated to open in mid-May, is the latest example of the city's arts and cultural transformation. This 8,000-seat, state-of-the-art outdoor music venue ushers in a new phase of Huntsville's evolution. The theater and festival grounds will become a multi-use destination featuring acres of green space for picnicking, hiking trails, a food truck court and entertainment center designed to host local community events year-round.
"Everything about the ORION is top-notch, even down to the acoustic-improving IPE wood benches used for seats," Ryan Murphy noted. "The backstage area will be a paradise for performers. Displays will highlight north Alabama's rich music history, and décor will feature real artifacts from Huntsville's space history. Entertainers who may have once overlooked Alabama will want to play here now," said Ryan. "There's really nothing like this anywhere."
As Ryan explained, he has a better sense about that feeling he couldn't identify. "High quality of life is not just talk; it's real. You feel it everywhere you go. Everyone is proud of Huntsville and is eager to share our city with others," Ryan said. He's proud, too, that the ORION will be a perfect showcase for a city that is truly a star of Alabama.